Rake Kit was developed through extensive research to further improve the airflow characteristic of a Windbender windshield. We made surprisingly major improvements while solving a relatively minor problem.
Smoother Airflow at Speed
Moving the top shield to a more vertical position smooths the airflow so much behind a Windbender that, "You'll have to look at your speedometer to tell how fast you're going". Compared to any other motorcycle windshield you've ever tried, 100 mph will feel like sitting on a park bench with a breeze blowing.
Huge Unexpected Bonuses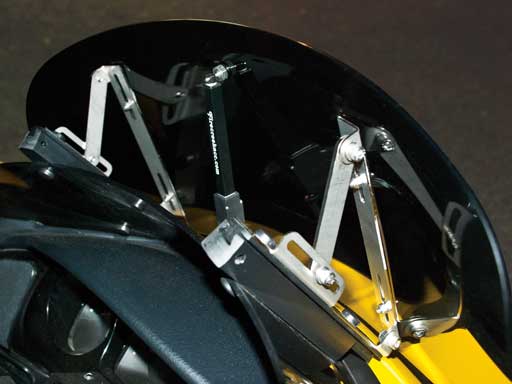 A huge bonus of a more vertical top shield demonstrates itself in dirty-air on the interstate. Head bobbling caused by turbulence from large vehicles is diminished so much that you'll look forward to riding in heavy traffic. Well, maybe not, but at least you won't dread riding in to a big city at the end of a six hundred mile day!
We have reports of our Rake Kit keeping people from selling their bikes. It has cured several severe noise and buffeting issues and kept riders riding. Even if you're not threatening to sell your bike, your ride will be ridiculously improved.
You will get these benefits with both HP and ST Top Shields. The Rake Kit is available for Honda GL1800 and F6B shields. It can be added at anytime and works with our Electric Option and Farkle Shelf. It provides an additional 3" of vertical adjustment and more than 20° of angular adjustment. If you need to trim the bottom of your shield to get it low enough, we offer a Rake Kit that will let you do that too.
Have you got a wind management problem you can't solve? Try a Rake Kit. If it doesn't fix the problem, you can send it back.