Our Customers Say . . .
Please send us a picture and tell us what you think of your Windbender.
---
I can't believe how Far I look over this shield
I wanted to follow up and let you know that the vibration with my stock shield has not reoccurred and I have been very please with the Windbender. I have ridden about 4 thousand miles since installing the windshield and like it a great deal, in fact I just got home from a 600 mile mountain trip thru rain. While I like it at the lowest setting most of the time I raise it up when raining and it does a good job of deflecting the rain. So, thanks and keep up the good work. BYW, I get questions from other wingers from time to time about the Windbender and I think it's because it looks really good on the bike.
David
---
I would like to thank you for making a great product and the advice in choosing the correct windshield. I am really enjoying the "view" by looking over, not through the windshield, fantastic. It makes riding that much more enjoyable. Thanks again
Pete
---
With our new Windbender my wife and I can finally have a conversation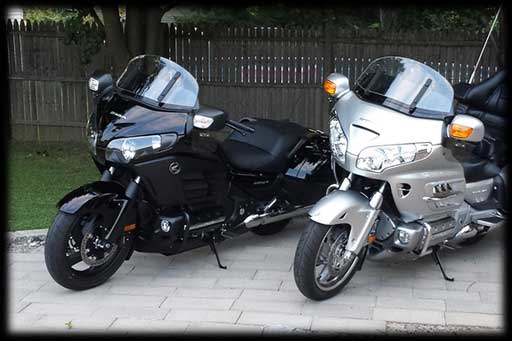 I've run a few hundred miles, so far, with my new Windbender HP. I am 6' with a 32" inseam, and have a Road Sofa seat. I picked the HP based on the Fire Creek website fit instructions, which put me about 2" up from needing the HP-S. Install was not bad at all. It took me about 2 hours to do the job, and that included putting Velcro in place of the problematic tape. I feel like it makes the bike look sportier, and the pieces seem to be of a high build quality. With both pieces full down, it is about the same height as the minus-two was when down, which gives a great view over the windshield, but less wind than the minus-two had when full up. I can actually leave my face shield up even when the windshield is fully down. I do wear glasses, but I am now putting my face-shield down most of the time. The moment I hit 40 mph or so, the difference was apparent, and it only gets more apparent with speed. From the moment the windshield becomes effective, you can feel "gusts" what I'm thinking others are calling turbulence. The "gusts" only grow stronger with speed, but don't seem to increase in frequency much. I've heard of others saying that the flow collapses at a certain speed, but I've had it up to 90 and seen no such thing. The "gusts" simply grow proportionally stronger, but the volume of noise never gets as strong as the minus-two would be at for the same speed. I can hear my fairing speakers up to about 80 now, where before they were gone by 60. I also hear a lot more going on around me at speed, and the bike is now making "new" noises that I never heard before. I have played with it and have settled on leaving it at 3 clicks up on the stock adjustment and moving the Windbender up and down depending on the ride, most of the time. On the highway I put it in the third notch, and down to the 1st notch for back road cruising. I put it all the way down, OEM and Windbender, for hitting the twisties hard. It do notice what seems to be a wind coming from behind me, the higher up I put the shield, and I also seem to notice more air on my legs, but that might be an illusion. There is a roughly 1" band below the lip, at the top of the windshield, where it almost looks "hammered". You can see through this, but it's like looking through a dirty windshield. After a couple of commutes, I was no longer noticing it. The lip does distort the view, but again, I fail to notice it now. I did put it all the way up one time, to try looking through the windshield, and that puts the lip up over where I normally look, and so it is not an issue. I've not ridden in the rain yet, so I'll update later, but that is where I intend to put it to if it rains heavily. That probably won't be anytime soon though, as it does not seem to rain as heavily here as it did in Texas. I have also not tried it out two-up yet, and will update then as well. In summary, I don't miss the minus-2 at all right now, though that may change when it gets hot. I can always pull the upper shield off though, if it gets too hot. I love that I can switch in seconds. Just look at the morning forecast and put on the corresponding shield.
Wayne
---
Cannot adequately convey how pleased I am!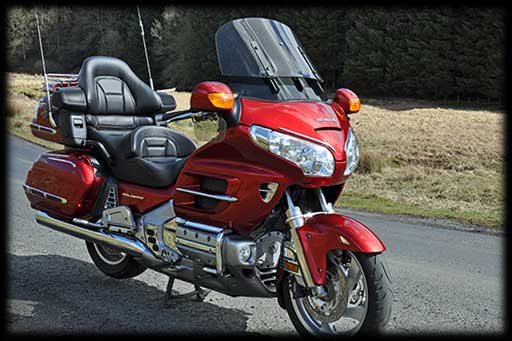 I also just put the HP11 on my wing, and took off on a three week, 9000 mile trip to the Arctic Circle. Absolutely love it...best windshield ever!. My wife couldn't thank me (and Quickdraw) enough. The old shield created quite a bit of buffeting. We are both VERY pleased with the Windbender. Played with the adjustment, and found the best (for us) with the base shield two up from the bottom, and the top shield raised one position. Rode in rain every day for an hour or so, and on two days, 13+ hrs of rain. Found no problem with the shield, or getting wetter than with another shield. It seems the faster you go, the better the shield works. Had a hard time keeping it under 80 (except on the Dalton). Great trip made better by a great shield. I won't put another shield on my bike.
Gene
---
What purpose is served of the rain shedding ability of this product when you tend to look OVER it? I submit an alternative; the Windbender HP-S or Regular HP Product line. I can have the Windshield down much lower so that my helmeted head is completely above the top portion of the Windscreen. Buffeting is negligible, I can get full airflow if desired to provide excellent rain removal of the helmet shield and I still have the option to raise it to eye level [or above] with the lower shield as well as the upper shield to provide a multitude of wind blocking for rider or compensate for the [now] occasional Pillion Travels. Plus I don't need to worry about the wasted time Cleaning of the shield during those oh so Precious Time Wasting Stops. Besides its just gonna get littered with bugs again in short order. Additionally, the Owner of Firecreek has designed a Dash shelf that fits this shield as well as the option to install onto OEM shields or Other After-market units and is "Extremely" solid. Also in the works is another lowered price version of the electric shield adjuster. I guess for those that haven't learn to look over will enjoy this particular benefit.
Dave
---
I put a Rake-Kit on and the drumming stopped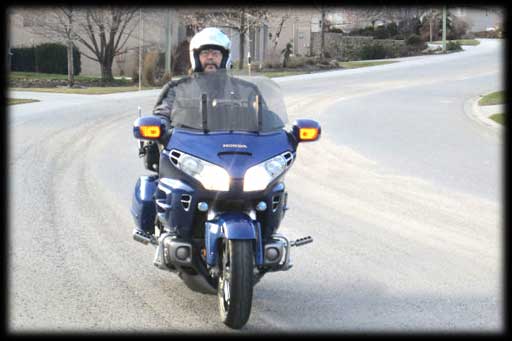 I would have never purchased the power option initially, since I was stuck in the set-it-and-forget-it mentality. But now I would never be able to give it up. I adjust the shield up and down dozens of times each day. Sometimes I lower it just a little in the late afternoon when I start to slump in the seat after a long days ride. A speed-regulated feature that would raise and lower the shield automatically would be great.
Isreal
---
Had my HP11 about 2 weeks and wanted to let you know its the best. Wouldn't be without one now.
Kevin
---
I was out on a long ride today; just couldn't get off the road. 55 F in January - are you kiddin' me. The banana climate in the Northwest is very beneficial for a motorcyclist from Sweden like me. My new Windbender HP is just so amazingly comfortable. I am so very happy I finally have a windscreen that offers me so much comfort and fun. Nothing in this world of Aerodynamics will consistently work to your favor throughout your speed spectrum like the Grumman F-35 :-) You have to constantly recalibrate your wings to keep the airflow going your way. With the Windbender I have the "electric option" so I can adjust the windshield height with my thumb while riding to optimize the airflow over and around me when riding my beloved Goldwing GL1800, AT ANY SPEED. With my HP in its lowest position, I ride in smooth air up to a whopping 45mph. For continued, turbulent-free, comfortable ride at increased speed, I simply apply a small pressure on the switch to raise the shield an inch or so and the comfort zone remains the same at higher speeds. I call that a huge improvement over what any other stock or aftermarket windshield could EVER deliver. We are flying low here in a quiet and comfort cockpit with a big smile.
Rolf
---
Yee Haa! I put my new rake kit on last night. Everything set at the lowest position and the rake up about 1/3 of the travel. The buffeting was virtually gone!!!!!!!!!! I've moved the top shield up one notch for the ride home but wow what an improvement. Thanks Dayle!
Lee
---
Your help selecting the right shield was spot on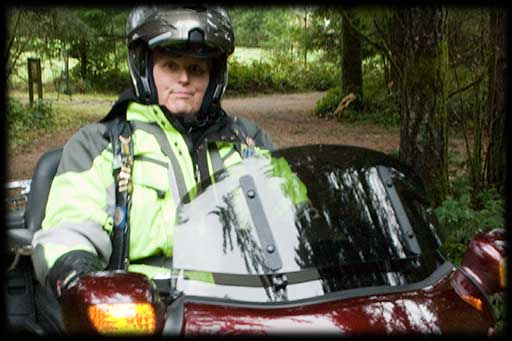 A bit of history: Besides the stock windshield I briefly had a Tulsa (sail) sold it and ended up with an F4 +2. which was an excellent choice for me. I am 6'2" and have a custom R. Mayer seat which raises my sitting position by nearly 2", and moves me back 1 1/2". So I am sitting a bit taller than most riders. When I was visiting QD a few months ago he set me up with an electric Windbender and one of his first rake kits. I spent a bit of time riding then stopping to make minor adjustments (rake kit adjustments take less than a minute) until I found my sweet-spot. Once I had the Windbender vertical adjustment set I do not believe that there is anything comparable in an aftermarket windshield. With the Windbender lowered I get a comfortable controlled bit of wind. As my speed increases, and the Windbender is raised, the rake kit becomes more active in controlling of the air flow. The air becomes very calm. With the rake kit you now have the ability to fine tune the windshield in a matter of a few minutes to your individual preference.
Maurice

---
The Windbender HPS I purchased for my GL1800 works great. Your help in selecting the right height was spot on, using the short (and I'm not overly tall) shield on the second notch is perfect. Above about 20 mph air flows about 1.5" to 2" above my head, creating a nice pocket of not quite still air. Enough of a breeze remains that I'm comfortable in a ¾ helmet on warmer days. On cooler days the windshield deflects sufficient air. I'm not overly cool either. Though buffeting was never a problem with the stock GL windscreen, the Windbender reduces the wind "noise" substantially… in fact I find I'm riding 10-15 mph faster than intended. Since I regularly ride several bikes, I'm surprised at how much I rely on the "wind noise" to hold my desired speed, but as the miles roll up I'm recalibrating myself. Initially I had concerns about riding in the rain with the shorter shield, and with a ¾ helmet it would result in a very wet face. Riding through the fall and into the winter here in the Northwest, wearing a full face helmet I find the Windbender windshield deflects enough of the rain that even in heavy weather visibility is fine, and for the most part my neck stays sufficiently dry I don't get water soak my jacket collar or neckerchief. The bronze lower and clear upper shield work perfect for me and though I look over the upper section by several inches, I don't believe I would be comfortable with the bronze or dark upper shield, as there are times, when riding at very low speed, I want to see what's in the area between the front wheel and the 20-25' or so in front that requires looking "through" the windshield. Great product and great service… thanks,
Ed Melroy, NW Motorcycle School
---
Your help selecting the right shield was spot on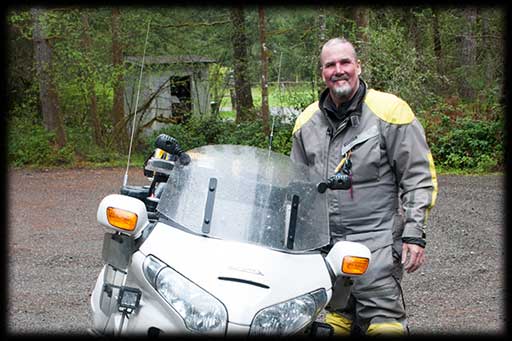 I put my Windbender on, rode to work in 37 degree temperatures and never felt any wind. I already like it better than anything I've ever used before.
Ray
---
I received the warranted replacement actuator yesterday and have it installed. As a business owner myself, I understand all too well that a company is only as good as its warranties are honored. I was discouraged, at first, when my actuator failed, but after talking with you and receiving my replacement so quickly, I feel you are a pretty darn good stand-up guy who stands behind his products. I very much like how the Windbender works for me and my wife very much likes the lesser wind beating on the back seat. The power option is very nice to use. I will be showing my Windbender to the guys I ride with and share my pleasant experience doing business with you. Feel free to use me as a reference. Thank you
Steve, ABC CARSTR Body and Frame
---
Over here we don't get the CB option so I mounted the switch for the shield in the blank where the CB talk switch would be on US models. Love the Windbender: works as advertised, awesome!
Steve, United Kingdom
---
Dayle, our ride was a great! But the best part of all was the new Windbender!!! What an amazing difference. The most amazing thing to me was the total lack of blast effect when passing an oncoming semi on the two lane up Whidby. Thank you for the great installation. I have passed your info on to a good friend who rides a Harley and just this last week-end suffered damage to his wind shield due to a parking lot hit & run. He seemed very interested. Thanks again, we will keep spreading the word about your great product and great service.
Paul
---
This thing is incredible!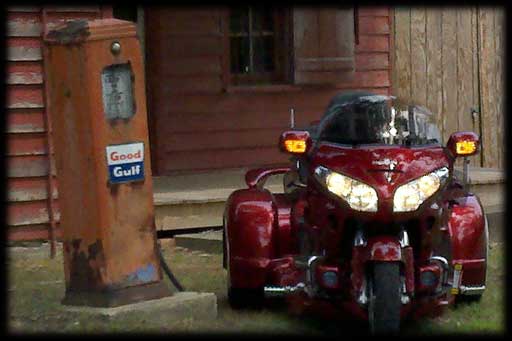 I had a Tulsa standard shield in the shed for a while just sitting there took it off to put on a wind-bender HP i like the HP but did not want to trow out the Tulsa so I ordered 2 top rails from Quickdraw who promptly sent them out. At first i did not know if it was going to work but i thought I'd give it a try. I cut the Tulsa down to 20 inches, drilled the rail mounting holes in it and put it on. To cut a long story short; to my surprise it works remarkably well. I now have two top shields instead of one.
Ogun Irmak Melbourne, Australia
---
I would like to thank you for creating a windshield that works as advertised. I love that I can clearly see over the top. I am impressed with the wind control. I am 5'8". And tonight I rode home in a downpour and was thrilled how the water trailed off of the curved lip. Very Very happy.
Craig
---
Just returned from a few days riding on Vancouver Island . . .why is it you didn't make me purchase a HP windscreen before? It's just perfect for me!
Joe
Hey Dayle! I just wanted to tell you that I installed the pair of spring loaded pins I recently ordered from you. I cannot believe how easy the installation was and how slick they work . . .cannot adequately convey how pleased I am! Thanks, as always!
Tom Noort
Coquiltlam, BC, Canada
---
I received my windshield from you guys for my GL1500. All I can say is I'll never go back to stock. This thing is incredible. Additionally, I have received several comments already on my bike actually looking better & sportier.
Steve Piontek
---
I received the Windbender ST you sent and it is much improved over the shield I had. No distortion visible that I can see. Thanks very much for your quick response to the situation, and I will gladly tell all my friends about your product, and great service. Thanks again.
Godfrey
---
Works exactly as advertised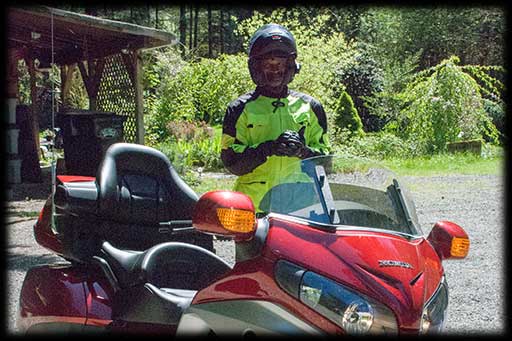 I bought my Windbender 3 years ago, and I got my "Electric Option" on my Windbender this spring! I just want to share my opinion with others, and the fact is that it is two different worlds to have that option - and to not have...! From earlier I fixed the position of the shield out of different criteria...like; main headwind directions, wind speed, rain/fog and highway-tunnels on my track. Quite often I had to stop and change position, and after a while I came out with some "ideal" position acceptable for most common. After installing the Electric Option, everything changed to the better. Sometimes it is a question only for some millimeter change on up- or down, and then it is silence behind. For all you guys who don't have, .....I recommend you you to buy! You will experience a positive change.
Karsten, Norway
---
Dayle, it was a great ride! but the best part of all was the new Windbender!!! What an amazing difference. The most amazing thing to me was the total lack of blast effect when passing an oncoming semi on the two lane up Whidby. Thank you for the great installation. Thanks again, we will keep spreading the word, great product great service.
Paul
---
Just wanted to let you know that the windshield in its current configuration passed the Mona test. With it at the highest position, she says there is no buffeting and it's nice and quiet. I also notice I don't hear any wind noise coming from her microphone as well. I'm going to try the windshield without the rake kit when we get home to see if I even need it. Great product and a happy customer.
Tom
---
I got my Windbender today and it is wind management magic! It works perfectly for me. Thanks for a great product.
Ed
---
Just wanted to let you know that in my opinion, the HPS kit is the best money I've spent on my GL1800. It has enabled me to find the 'sweet spot' that I was looking for.
Dan
---
Works better than advertised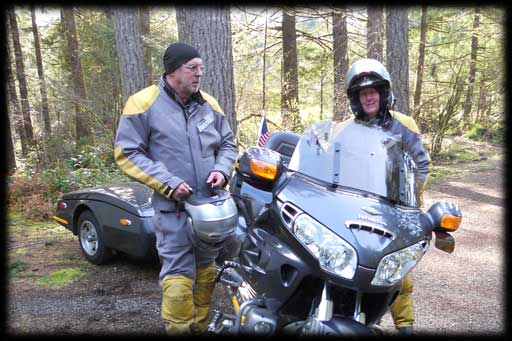 Just wanted to give a quick update. Jan and I just got home from a quick trip to Bend for an annual meeting. Total miles on the clock 315 miles. The windscreen worked flawlessly and seems to be running smoother everyday. Top speed may have been in the triple digits for a bit. The airflow was very smooth and we had no problem talking to each other. I'm so happy with the Windbender I am push my shop to become a dealer. Thanks again! My only other request is for a few extra decals. Thanks Much,
Joe Woldord, Cycle Specialties
---
Hi Dayle, Just dropping you a line to let you know how things are going. Absolutely love all the stuff! Got the Quicktank plumbed to my existing 4AN line with a shutoff valve, JiffyTite quick disconnect, and a Russell fuel filter and everything works perfectly. Tank drains slowly, but apparently fast enough. 6AN would have been better, but this works and changing to 6AN would involve more time than I have at the moment. Installed the Windbender without the rake kit for a very short time. Long enough to fall in love with the shield. Installed the Farkle Shelf at the same time in order to get all the stuff off of my handlebars because Keith Engelke down here at Goldwing Werks had a set of Helibars ordered for me. He is a great guy, by the way. You should be glad to have him as a dealer. Extremely competent and equally conscientious. Installed the rake kit in time to do the Tour of Honor ride for Texas and it worked beautifully, but I'm not sure I really noticed a big difference. There might have been more of a difference if I had raised it some, but then I would have been looking right through the recurve and that would not have been good at all. So, I have taken it off once again and am riding in the Heart of Texas Rally on the 26th. That will be the first time I will be able to ride enough miles to make an honest assessment. I am thinking that I'll be able to know if I like it or not by whether I miss it or not. The Tour of Honor was about 1500 miles which should be enough time to get a feel for a piece of equipment. I'll know more after the Heart of Texas Rally. Holding off installing the electric kit until the final determination, but I can see where I will really like having that feature. Anyway, sorry for the novel. More to come. All the best,
Paul
---
Wow, what a difference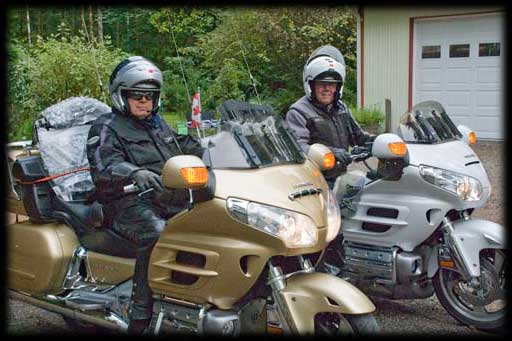 Hi Dayle, Just a quick note to say thank-you, thank-you, thank-you... Your advice was spot on. I ordered your Windbender HPS and cannot say thank-you enough. Not only is the windshield system everything you advertise but you are actually available by phone and even return calls!!! After 30 years I finally decided to sell my 1984 V65 Sabre (Hondaline Sport fairing equipped) and get a new motorcycle. When my wife said she would like to ride with me again (she took a 25 year hiatus for the kids) I decided to get a Goldwing. Found a beautiful 2008 with 25,000 miles, and wow what a bike BUT with the stock windshield I was absolutely shocked by the obscene amount of buffeting I was subject to. How can Honda sell a motorcycle for the money they ask and not have this issue solved. What a huge disappointment. Was thinking I might sell it but instead started looking at the many windshield options on line, and after reading all the blogs, I gave you a call. You answered my questions and offered your advice. You shipped the HPS immediately and I received it a few days later, had it on the bike in maybe an hour. And the very first ride, WOW, what a difference. And I had not even started to fine tune the windshield height. I cannot say thank-you enough. A quality product, from a quality businessman, that works better than advertised. Thank-you (there i go again with the thank-you's.)
Mark
---
Rode 1500 miles last week all through he mountains of WV. Real nice trip. Its so much better to be able to ride and look over the windshield. Its like a new motorcycle. Not to mention the "cool factor"! The bike looks so much better, like it has a bit of attitude now! My wife and i are both happy with the comfort level. So you know what that means GITTY UP! Thanks for working with me and helping me out to pick the HPS W/Rake Kit.
Kevin
---
Wouldn't ride without one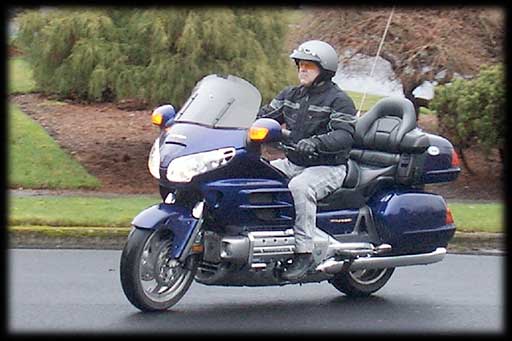 Just want to get back to you with some pics and my impressions about my HP-S system. The Windbender system is the BEST aftermarket windshield on the market in my opinion. I have the HP-S which offers a wide variety of flexibility and protection both around town and on long distance touring. I'm able to adjust the windshield according to the conditions I ride in. I'm an "Look Over the Top" rider and don't think I'll ever go back to a bike that I have to look through the windshield. I wear a half helmet and full face depending on the ride and the conditions. The windshield allows me so much flexibility while giving me the protection in both the weather elements and wind noise. Both factors lead this windshield into being one of the best on the market. It is and was my first choice. I could have tried others but then again I didn't want to look through the windshield. After researching the engineering aspects of the windshield it just made sense to go with the dual screen design. I am very pleased with the product and have put it on both my 2007 Gold Wind and 2013 F6B. Life is Good. Thanks again and enjoy your great product and company - you have earned it. You are not a bad guy to talk to either :-). Thanks,
Paul
---
I recently purchased a new HP-S windshield kit from Dayle at Firecreek Accessories and I was not totally happy with the performance of it. This was more likely a result of my "pickiness" than a result of how it performed. After extensive discussions on the phone about my (minor) issues, Dayle decided I should try a ST13. He shipped me the new top shield and I installed it and I must say that I'm very happy with its performance. I got the bronze tint and it looks really good with the black F6B. (Pictures attached) I have never worked with someone quite so patient and eager to make sure I was happy. The customer service at Firecreek Accessories is second to none and the product is great as well. After the stock F6B shield and then the Honda "tall shield", I finally got it right. Thanks, Dayle.
Joe
---
Firecreek originally substituted a bronze shield for clear to expedite my order and gave me the option to swap it out when clear was in stock. We mounted the bronze shield as a Christmas gift, but were not able to adjust to the bronze tint at night. Firecreek swapped it out for us with no charge. We applaud your customer service. This is one reason four of my friends have Windbenders.
Randy
---